Los Angeles Lakers: Takeaways from Game 4 victory
The Los Angeles Lakers were able to win their third game of the NBA Finals and are now just one win away from a title.
The Los Angeles Lakers responded to their Game 3 loss with a hard fought team win to beat the Heat 102-96 in Game 4, giving them a commanding 3-1 series lead. The Heat threw all they could at the Lakers, but unlike last game, the Purple and Gold had answers.
The Heat's game plan was very similar to the previous game, with a few minor adjustments, but Lakers Coach Frank Vogel learned from his mistakes and countered Miami's game plan to give the Lakers the edge they needed to win Game 4.
The Lakers superstars LeBron James and Anthony Davis shined, however, they could not have secured the win without the contributions of the rest of the Laker team.
The Lakers will look to complete their dominant NBA Finals run with a win on Friday night, but first, here is some analysis from the big Game 4 win.
Vogel's Counters to Miami's Game Plan
Miami's game plan in Game 4 was very similar to that of Game 3. Offensively, they tried to target Dwight Howard in pick and roll actions to take advantage of a quicker offensive player versus a slower Howard.
During his only eight minutes of the game, the Heat attempted to exploit Howard in the pick and roll action almost every time they went into their half court offense. Vogel quickly noticed Miami's game plan and countered by subbing Howard out for a smaller, more versatile lineup.
This allowed the Lakers to cover the pick and roll more effectively by fighting through screens, instead of switching. This allowed Anthony Davis to stick with Jimmy Butler instead of switching on to a smaller shooting guard like Herro or Robinson.
Since Butler is not really a 3-point shooting threat, the Lakers played drop coverage on screens where Davis was able to go under ball screens instead of having to switch and guard the screener. Davis showed his dominant defensive talent in Game 4 by holding Butler to a far less effective game than the previous three.
While guarded by Davis in Game 4, Jimmy Butler only scored 5 points on an ineffective 1-5 shooting. When not guarded by Davis, Butler scored 17 points on 7/11 shooting.
On offense, the Lakers attacked the Heat in smarter fashion than they did in Game 3. Los Angeles got off to a rocky start by trying to force the ball into Anthony Davis in the post, which resulted in seven first quarter turnovers.
However, they quickly reeled it back in and started attacking the Heat far more effectively. When Davis got the ball in the post, the Heat often sent another player to double on the ball. Instead of trying to force a shot, Davis kicked it out and the Lakers swung the ball multiple times which forced the Heat to scramble. This gave the Lakers opportunities for open shots and driving lanes. Kentavious Caldwell-Pope capitalized on open looks, shooting 3-8 from three point range and 6-12 from the field. Kyle Kuzma continued his strong play off the bench from Game 3 and added another 9 points on 2-5 three point shooting.
Lakers' Superstars Shine Bright
LeBron James and Anthony Davis showed their dominance in Game 4 on both ends of the floor. James tallied 28 points, 12 rebounds, and 8 assists on 50% shooting from the field and 10-12 shooting from the free throw line.
Davis added another 28 points, 9 rebounds, 4 assists, and 4 blocks. Davis put up this stat line while having to guard Miami's most talented player, Jimmy Butler, who scored his series low of 22 points. The Lakers duo focused on attacking the basket, especially in the second half. In fact, the Lakers did not miss a shot at the rim in the entire second half. James did a great job of going up strong to the rim and getting fouled while still finishing strong.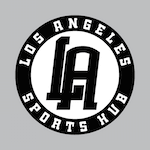 Want your voice heard? Join the LA Sports Hub team!
Write for us!
The Lakers will look for their stars to have a dominant game on Friday night to close out the Miami Heat to win the Laker organization's 17th championship. The Lakers will wear their Mamba jerseys on Friday night at 6pm PT on ABC.